You landed an interview – congratulations! Your résumé and cover letter caught an employer's attention, potentially among numerous candidates. Now it's time to make a more personal connection, whether it is in person, over the phone, or via Teams/Zoom. How well you perform during your interview will likely be the determining factor in whether or not you are offered the position.
Step 1. Do your research. Start by reading the company's website to be sure you fully understand their mission and products or services. But don't stop there!
Step 2. Gather your references. Identify at least three people who can speak to your ability to succeed at this position.
See: Requesting References and Letters of Recommendation
Step 3. Select your outfit. Your clothing and accessories speak volumes about your professionalism and workplace savvy.
See: What to Bring, What to Wear
Step 4. Find out what to expect. Make sure you know the type of interview you'll be participating in. You should also be familiar with the general stages of an interview. Big Interview includes resources on how to prepare, tips for effective answers, and what to expect during different types of interviews.
See: Types of Interviews
See: Stages of the Interview
Step 5. Practice, practice, practice! Review the questions you are mostly likely to encounter during the interview and practice your response to each. Be sure to use Big Interview to practice by recording your answers to a variety of interview questions that you can review or send to others for feedback.
See: Interview Questions
See: Practice Interviews
Step 6. Map your route. Before you leave, write down the address of the company, the time of the interview and a phone number. You should also bring printed directions in case technology fails you. Plan to arrive at least 30 minutes early; you can always wait in the car or a nearby coffee shop until 10 minutes before the interview.
Step 7: Follow up. Reinforce the great impression you made during the interview. Appropriate follow-up will help seal the deal.
See: After the Interview
Step 8: Evaluate the offer. Make sure that the position you accept—and the starting salary—will meet your needs.
See: Negotiating and Evaluating Offers
Big Interview
1. Learn
Go to Big Interview and watch the video curriculum.
Browse the question library for commonly asked questions and tips on how to craft your best answer.
2. Prepare
Record yourself through Big Interview and send the video share link to interviews@umbc.edu for review and feedback.
You may also schedule a 30 or 60-minute interview-prep appointment with a career advisor (optional).
3. Practice
Big Interview will help to improve your interviewing skills significantly. You will have access 24/7 and can record yourself interviewing as often as you like. However, if you'd like to practice in person, you may also schedule a practice (mock) interview appointment with the Career Specialist in the Career Center. Call 410-455-2216 to schedule a "mock interview."
Interview Preparation and Practice Interview Appointments
The Career Center strongly recommends students meet one-on-one with a career advisor prior to interviewing. We have two types of 60-minute interview appointments: Interview Preparation, for students who need assistance in preparing for an interview, and the Practice Interview, where students can participate in a simulated interview with an advisor. Come prepared with answers to typical questions, as well as a list of questions you might ask an employer.
NOTE: While Interview Preparation appointments can be scheduled via Handshake, we ask that you make Practice Interview appointments by calling our reception line at 410-455-2216.
On-Campus Interviews
Throughout the fall and spring, the Career Center hosts employers from a variety of industries for a day of on-campus interviews. Learn more about On-Campus Recruiting and Interviews in our Find an Internship or Job section.
Request an Interview Room for a Remote Interview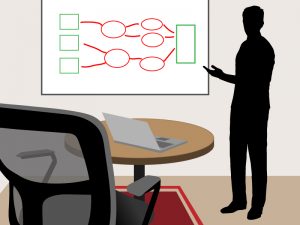 Remote interviews are occurring more frequently than ever, taking place via telephone, Zoom, or other video conferencing tools.  Employers and graduate schools are utilizing remote interviews to efficiently screen applicants.  One of the key factors to having a successful remote interview is holding it in a distraction-free space where your interviewer is able to clearly see and hear you. The Career Center's interview rooms are available for UMBC students to reserve for remote interviews. Learn more about Requesting an Interview Room.