Paid Social Media & Event Planning Intern Needed
Intern for a UMBC Alum at Batimore Homecoming
November 30, 2019 7:58 AM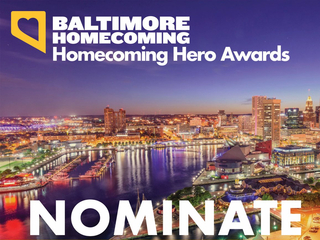 SEEKING: Intern for Nonprofit Start-up Driving Impact in Baltimore
We are looking for a tech-savvy & professional go-getter to be a part of a start-up with the potential to make significant impact on the city of Baltimore.  Willingness to learn, an aptitude for working under pressure, and a positive attitude are all required. The position will report to the Deputy Director and Executive Director.
ABOUT US
Baltimore Homecoming is an initiative that seeks to build a national network of accomplished Baltimore expat-alumni and reconnect them with Baltimore today, reawakening and deepening personal ties to the city and sparking new partnerships, investments and collaborations.
In our third year, Baltimore Homecoming''s efforts will focus on the third annual Homecoming conference, which will be held in October 2020. The three-day program will engage roughly 150 out-of-town guests and alumni, showcasing for them the city's next generation of innovators, artists and activists. 
To get a sense of what Baltimore Homecoming is all about, check out our 2018 Highlight Reel and events photo gallery.

Who's Involved
Baltimore Homecoming, Inc. was founded by Nate Loewentheil and JM Schapiro. Our Homecoming Host Committee includes dozens of city leaders and notables.  Full list available here: www.baltimorehomecoming.com/involved

Responsibilities include:
Working directly with the Deputy Director and provide as needed administrative support to the team.
Assisting in the coordination and support of project plans including alumni research, outreach & recruitment, and constituent management.
Assisting in the conversion of constituent data into a CRM system.
Assisting in public engagement initiatives, including coordinating and meeting with community partners.
Drafting, proofing and preparing invitations, letters and other related materials.
Social media content development and engagement.
Providing any other necessary support to directors on ad-hoc projects and events.
What you'll learn:
How to plan, market and execute a large scale event
How to do fundraising research and development
How to build and manage social media campaigns 
How to work - and make an impact - in a start-up environment
Effective strategies for compiling and maintaining a large database
Qualifications desired: 
College student, graduate student or recent graduate 
Interest/familiarity with the City of Baltimore
Experience in events, development, member relations, administration or sales
Experience, familiarity or expertise in donor database management or CRM is a plus
Willingness & ability to take direction and feedback
Willingness & ability to work independently and take initiative
Must be detail oriented and driven
Details
Expected start date: January 2020
Desired length of internship: 10 months (January 2020 - October 2020)
Compensation: Negotiable
Office(s) located at: 
Brewer Hill's Hub, 3700 O'Donnell Street, Suite 200, Baltimore, MD 21224
Continental Realty Corporation, 1427 Clarkview Road, Suite 500, Baltimore, MD 21209

How to Apply:
To be considered, please send resume, writing sample, recent presentation and 2-4 sentences on why you think you'd be perfect for the opportunity to Deputy Director, Robbin Lee, at robbin@baltimorehomecoming.com
Robbin Lee
UMBC '13
Deputy Director, Baltimore Homecoming
robbin@baltimorehomecoming.com