Career Fair Guide
Why everyone should come!
February 11, 2019 12:40 PM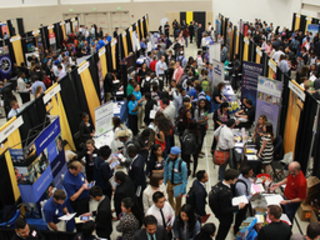 Hey everyone! If you've been paying any attention, you know that UMBC's Spring Career Fair is this Friday. And if you haven't, now you know. It'll be from 11:30-3:30 in the RAC. Be sure to stop by dressed in business professional and with a few copies of your resume. If you want a longer guide, check out my post from last Fall on what to do before, during, and after the fair. . But this time I'm going to talk about something a little different: why each and every one of you should come to the Career Fair.
If you want a job or internship the answer is kind of obvious. Come apply for jobs! But before you do, make sure you have a good resume. We have online resources on our website, or you can come in and see us in person. Make an appointment or come to drop in hours any weekday from 2 pm - 4 pm. Also look at the Career Fair directory online and decide which companies you want to target. The day of the fair, make it a priority to go to their booths first.
If you have a job or internship look at the Career Fair as an opportunity to practice networking with very few repercussions. You don't have to worry about getting a job, so a lot of the pressure is off! See it as a chance to talk with hiring managers and professionals in your field, although be sure to tell them that you aren't looking for employment at this time. And of course, stop by our LinkedIn head shot booth so your picture looks as good as your experience.
If you don't feel qualified for a job or internship you're probably wrong (and I mean that in the nicest way possible). Internships are designed for people with little to no experience. If you're worried that your resume doesn't have enough content, come see us at drop-ins! We'll help you showcase what you have. If you feel like you haven't learned enough, that's okay too. Most employers don't expect interns to know much at all! You'll spend a good portion of your time as an intern learning both technical and professional skills. Come to the fair and check out the employers that will be marked "Freshman Friendly." They are open to people with less experience and happy to take on an intern and train them to do the job right!